Microsoft CEO Satya Nadella spoke of the impact of digitalisation on organisations, stating; "By 2025, it's projected that sales and marketing processes will involve more proactive engagements than reactive ones, all the way from customer marketing to supply chain. Going forward, every business process will be collaborative, powered by data and AI, and will bridge the digital and physical worlds."
External market influences are helping to transform B2B selling into a more digital-based activity. As a result, we have seen an increase in organisations using more digitalised strategies in their B2B activities. This is in response to the pandemic, higher levels of competition entering and disrupting the markets, buyer power increasing as prospects self-educate and evaluate offerings without the influence of a sales rep, and buyers' preferences for a more personalised experience when making B2B purchases.
Each generation within the workforce has individual preferences. The Harvard Business Review states that 73% of individuals who research, influence, and make buying decisions are millennials (the digital-native generation) who now expect consumer-level experience when dealing with a B2B scenario.
The Modern Buyer
The modern buyer does their research online, making digital and social the foundation that influences their buying journey. According to LinkedIn, the modern buyer reads articles and blogs, views videos and downloads whitepapers to self-educate, and self-evaluate. This type of buyer is heavily influenced by references, recommendations, case studies or success stories and thought leadership content during the decision-making process.
With the shift in buyers' preferences moving towards more digitised activities, organisations that adapt and go digital will continue to grow.
According to the findings presented by Gartner in their Future of Sales Report, today's B2B buyers are now expecting:
B2B sales interactions to be online. The business customer learns more online than ever before, and it will become unavoidable to offer the same advanced experience available in the B2C environment. Gartner predicts that by 2025, 80% of B2B sales interactions will be conducted through digital channels.
A representative-free experience. B2B buyers perceive little distinct value (beyond their learning) from sales reps.
Buyers expect the same seamless and easy purchases that are standard with the B2C digital experience. Organisations that fail to adjust will find themselves competing with innovative competitors who enter the market with a digital-first, customer experience.
Another outcome of the shift in digital sales is the use of more personalised messaging, designed just for their needs. The Next in Personalisation Report saw buyers responding positively when brands demonstrate an investment in the relationship, not the transaction. Personalisation matters more than ever and creates an engaging customer experience in an otherwise flat and detached digital selling landscape.
Let's consider the data from the Gartner research: buyer's reported spending only a small part of their total buying time interacting with the selling organisation's sales team. The majority of their time was spent on independent learning online.
For sales teams, the overall lack of access and time spent with the buyer represents one of the biggest challenges. The window of opportunity to turn customer preferences towards their own organisation is small. The way to your prospect is now through digital channels and digital selling.
Digital Reluctance
"Today sellers must have a willingness to incorporate technology, data, and AI-driven insights into their sales activity." Harvard Business Review.
A reluctance to adopt digital sales when your ideal client prefers to buy online limits your ability to serve the modern B2B buyer.
A sales team's hesitation is often not about the technology, rather about a new way of working. A sales agent who thrives on personal interactions may not see the benefit of digital communication and selling.
Done well, digitalising the sales function helps the sales team perform better. An organisation becomes more flexible and customer-centric when powered by data-driven decision-making.
Not fully utilising supporting technologies throughout the sales organisation will hinder the efforts of going digital. The consequences of not adopting technology can have ripple effects on the selling organisation. Such as:
An inability to react to changing preferences.
Organisations that wish to remain customer-orientated need to follow suit with the changing preferences of those customers. The overuse of traditional selling techniques still being used by organisations can harm the buyer's experience.
When 400 UK B2B buyers were asked during a Showpad survey, which traditional selling techniques negatively affected their experiences, these were the findings: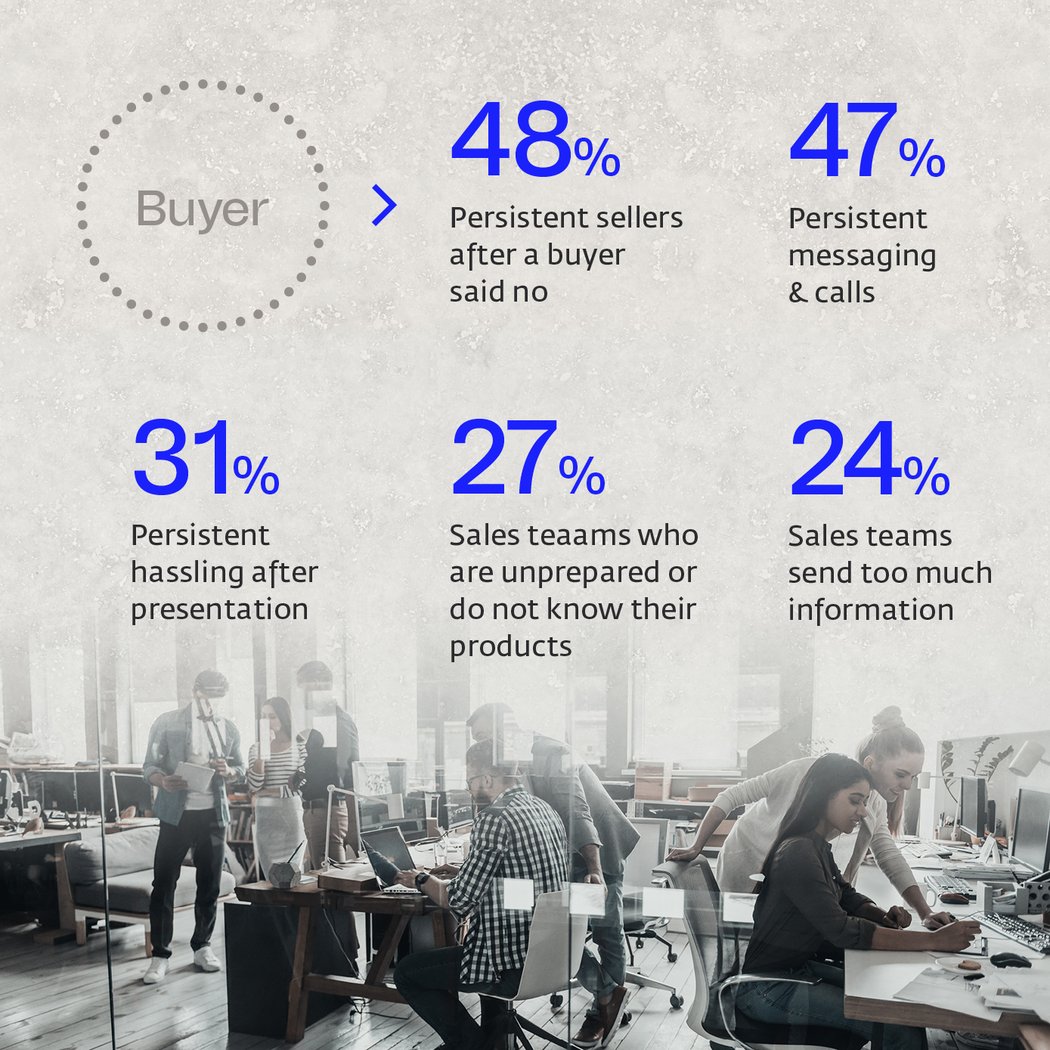 Continuing to use selling techniques that do not delight your customer base, will ultimately result in the loss of customers and the loss of opportunities to gain new business.
Competitive disadvantage.
When new organisations come in and disrupt an industry with innovative alternatives and agile digital selling methods, organisations that are stuck in the past are losing competitive advantages.
Digitalisation streamlines sales and marketing processes, as customer and market data are in one place, creating a connected organisation. Sales intelligence produces customer insights and best route suggestions when dealing with prospects.
Keeping up with buying trends is important, and utilising digital capabilities is the best way to stay responsive. Delivering content to a prospect on a platform they prefer will improve the buying experience and increase your chances of being the chosen vendor.
Organisations lose out on key analytics.
Buyer loyalty is fragile, and companies are having to work harder to completely understand the buyer to help promote loyalty. Digital selling is rich in buyer data and insights, and without it, organisations are losing out on key analytics. This data allows an organisation to tailor content, engage on the platforms that matter to the buyer and make strategic decisions.
Without insights, you could be making decisions based on assumptions, not on clean data. Early adopters of digital sales have a learning advantage by aligning strategies and processes that best suit their customer base. Tracking buyers' interactions and behaviours allow organisations to optimise and personalise the buyers' experience.
The Technology Solution
Amongst all these changes we are seeing a permanent change in strategy, processes, and resource allocation to help focus selling organisations be buyer centric. So, what can you do to keep up?
Modern cloud-based CRM software is key to activating digital selling. As customers are demanding faster response time and personalised content throughout the buying journey, technologies supporting sales teams become more necessary. A platform for business-supporting apps where data-driven sales strategies are at the core of the platform. The ideal solution is centralised and leverages data that is collected during every sale interaction.
The benefits of a CRM solution are endless, but specifically, it addresses your organisation's need for clean, organised data to assist you in your decision-making. Building relationships by attracting customers and closing the leads is a priority. Integration of a CRM can combine supporting tools like LinkedIn Sales Navigator so the sales team can manage relationships to have positive outcomes.
A CRM has dashboards and reports to present real-time analytics based on data and predictive information to support the sales, marketing, and operations team in their decision-making tactics.
Aligned sales and marketing teams utilising a central CRM solution that can create content provides value to your customers and their preferred method of receiving information. Ensuring a more relevant customer engagement is delivered through personalised content, messaging, and experiences. If the whole organisation is focused on a rich buying experience, the sales process will be more like a B2C transaction. A central system also offers the organisation a holistic platform, and an overview of the complete mapping of a customer journey.
Built-in intelligent business processes of the CRM can automate everyday marketing and sales tasks to save time and generate more insights that may not have been as apparent before.
Closing sales to reach targets and increase revenue is another positive outcome of a CRM system. An intelligent system working with AI and machine learning can drive the organisation towards being more customer-focused. At the end of the day, a system that helps you deliver a better experience for your consumers will mean more profits, increase brand loyalty and trust and long-term relationships being built.
Conclusion
The digitisation of sales and marketing is proceeding at a rapid pace. To maximise your chances in this complex market, selling organisations should look to answer the question; just how ready is your business for the B2B digital- sales era?
Take in the points above and learn more from the Whitepaper where we dive deeper into the process of utilising digital selling. Adapt your business model so it evolves around learning from your successes and setbacks and use the data you discover to make course-correcting decisions that transform your organisation into a customer-focused entity.
We have put together a whitepaper that you may find interesting that dives further into the benefits, the types of technologies to utilise and what your next steps should look like. Download the Whitepaper here.